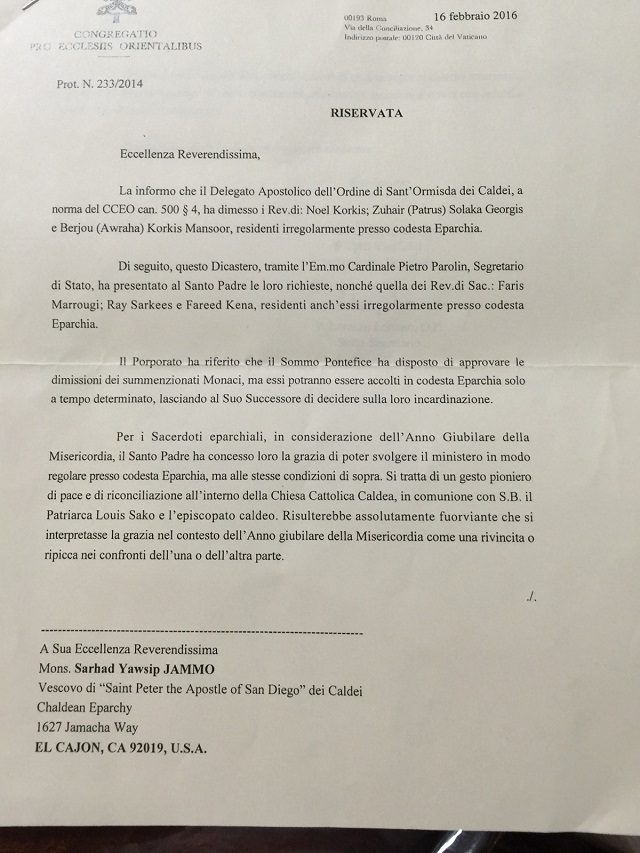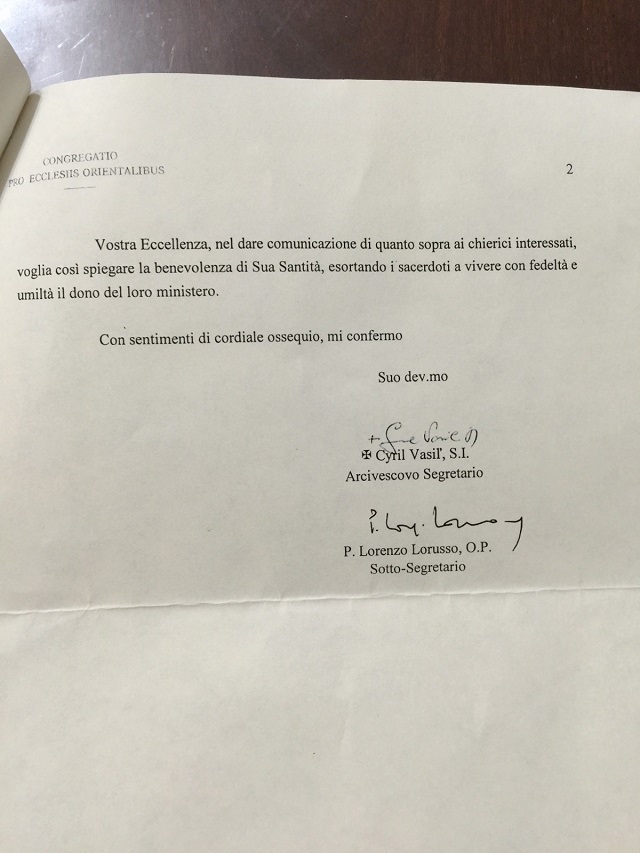 Congregation                                                                                                                                                                       00193 Roma    16 February 2016
Via della Conciliazione, 34
for the Eastern Churches                                                                                                                                                     Citta del Vaticano
Prot. N. 233/2014
                             Reserved
Most Reverend Excellence,
This is to inform you that the Apostolic Delegate of the Chaldean Order of Saint Ormisda has dismissed Rev Noel Korkis, Zuhair Solaka G. and B. Korkis Mansoor, who unlawfully resides in this Eparchy/Diocese.
 Consequently this Ministry, through the Secretary of State Em. Cardinal Pietro Parolin, has presented the request, as well as that of Rev S. Faris Marrougi and Rev S. Fareed Kena also unlawfully residing in this Eparchy, to the Holy Father.
The Em. Cardinal has informed us that the Pontiff Holy Father has approved the release of the Monks mentioned above, and that they can be welcomed in this Eparchy only temporarily, leaving the decision for their incardination to His Successor.
 For the Priests of the Eparchy, in consideration of the Jubilee Year of Mercy, the Holy Father has granted them the grace to regularly perform their ministry in this Eparchy but at the same condition as above.  This is a pioneering gesture of peace and reconciliation within the Catholic Chaldean Church, in communion with Patriarch Louis Sako and the chaldean episcopate. It would be absolutely misleading to interpret the grace in the context of the Jubilee Year of Mercy, as a revenge or spite towards either part.
Page 2
Your Excellence, in communicating the above to the interested clerics, will explain the kindness of His Holiness, urging the priests to live their ministry with faith and humility.
Faithfully to You
+ Cyril Vasil, S. J.
Archbishop Secretary
Fr.  Lorenzo Lorusso, O. P.
Under-Secretary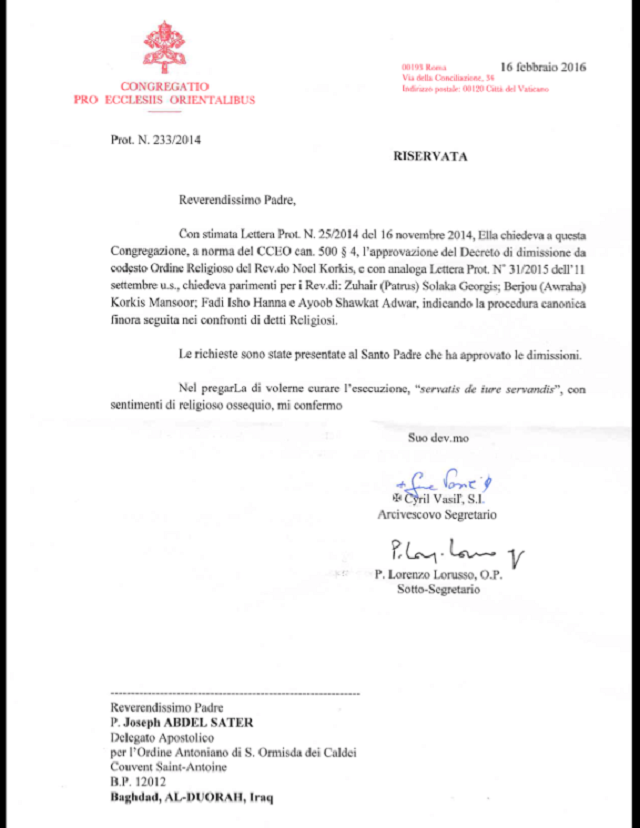 Congregation                                                                                                                                            Via della Conciliazione, 34
for the Eastern Churches                                                                                                                       Citta del Vatican
Prot. N. 233/2014                                                                                                                                     16 February 2016
Reserved
Very Reverend Father

With esteemed letter Prot. n. 25/2014 of November 16, 2014, you have requested from this Congregation, in accordance with the norm of CCEO, can. 500 # 4, the approval of the decree of release from the Religious Order of the Rev. Noel Korkis, and with a similar letter Prot. N. 31/2015 of September 11, you equally requested for the Rev. s: Zuhair (Patrus) Solaka Georgis , Berjou (Awraha) Korkis Mansoor, Fadi Isho Hanna and Ayoob Shawkat Adwar, while indicating the canonical procedure followed until the present time in regard to the mentioned Religious.
The requests have been presented to the Holy Father who did approve the release

.
 While we kindly pray you to take care of the execution "observing what is to be observed De Jure", and with sentiment of religious respect, I am
 Faithfully to You 
+ Cyril Vasil, S. J.
Archbishop Secretary
Fr.  Lorenzo Lorusso, O. P.
Under-Secretar———————————————
Very Reverend Father
P. Joseph Abdel Sater
Apostolic Delegate for the Anthonian Order of St. Ormizda of the Chaldeans
Convent St. Anthony
B.P. 12012 Baghdad, Al Duorah, Iraq